ORDINATOR bus assembly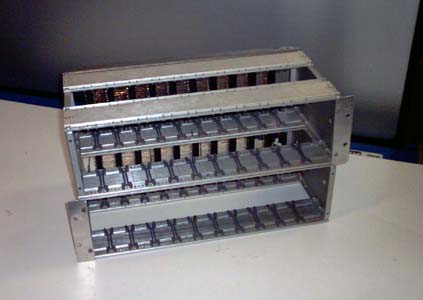 The bus assembly of the ORDINATOR provides the physical housing containing all the circuit boards and the wiring that connects them. It also contains the +5V DC and +12V DC power stabilizers that together with the power supply provide the electrical power for the circuit boards. The wiring implements the ORDINATOR bus.


The current bus assembly is the third generation of its kind. The first generation was only a single level and supported a maximum of 9 circuit boards. When the ORDINATOR grew, we added a second level to the bus; the result looked much like the current assembly. Later, all the wiring was redone to fix shorting problems that had developed over time.

The ORDINATOR bus structure is also described on pages 7-9 of the book "THE ORDINATOR PROJECT".