18th European Contest for Young Scientists and Inventors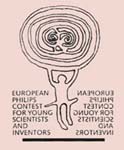 After winning the national competition for young scientists the ORDINATOR project was sent to the 18th European Contest for Young Scientists, organized by Philips at Oslo, Norway in May 1986.

Unfortunately, the contest rules set a maximum of three people on a group project, which means that it was not possible for the full ORD-GROUP (five people at that time) to participate. We worked around this by sending Geert Jan, Luc and Niels as the official delegation but having Jurjen and Jelte come over for the science fair part of the contest after the jury days. Nico Schenkeveld came with us as mentor.

As part of the contest we had to submit a written report describing the project. This resulted in the book "THE ORDINATOR PROJECT" that you can read elsewhere on the site. The original book is in Dutch; it was translated into English for the benefit of the non-Dutch speaking jury members. Unfortunately we never got a copy of the translation.

After writing the report, the ORDINATOR had to be shipped to and from Oslo via sea transport provided by Philips. This meant that we had to spend a few weeks without our project, this was a somewhat painful experience for some of us after spending much of our free time on it for several years. We were also quite anxious that some hardware might not survive the transport; to prepare for this we packed a full service kit including an oscilloscope. Luckily, our hardware survived the experience beautifully. Our console terminal did break, however; we had to temporarily borrow a terminal from another contestant.

The jury awarded us the third prize as you can see from the list of prizes (PDF).

Needless to say, the event received quite some press coverage (according to our standards, at least), you can see most of it in the press clippings section of the site.

After the contest, all six of us came back to the Netherlands in a very memorable 24-hour train trip from Oslo to Eindhoven. This may have been the only time that we had an extensive group discussion about the project and its future; usually these things got decided in a much more ad-hoc way.


| | |
| --- | --- |
| | |
| empty stand | finished stand |