DIAMOND
DIAMOND is our ROM-based DIAgnostic MONitor and Debugger.

DIAMOND was the first program written for the ORDINATOR system, started when the CPU board was barely finished. We first wrote it on the EXIDY.

Its prompt has a vague similarity to the Burroughs CANDE (Command AND Edit) command language, because we were very fond of this at the time. However, a major interactive feature of DIAMOND is that it has no command-line editing. We valued this as a distinct improvement over the EXIDY ROM monitor, which did have such editing, primarily because of the immediate feedback and the saving of keystrokes. All ROM monitor programs written by us shared this characteristic; they were also very similar in their command syntax although the output was usually terser than the CANDE-inspired verbosity of DIAMOND.

Timing problems in early hardware versions caused us to initially choose a two-stage reset procedure (RESET followed by NMI), thus allowing variable delays between power-on and software start-up. This was later changed to a fixed delay when the hardware was stable.

The early DIAMOND reference document describes this two-stage reset procedure; it also describes the virtual memory system of the ORDINATOR and the then-current DIAMOND command set.

When disk booting is turned off, you would get the following prompt:

#>:DIAMOND 2.1, 03/06/88
#>:EXTENS 2.2, 04/06/88
#>:
#>

This echoes the versions of the DIAMOND ROMs:


| | |
| --- | --- |
| | |
| main ROM | extension ROM |

DIAMOND could only be used from the serial console terminal (known as SERIAL0 under TS).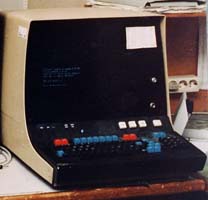 console terminal


DIAMOND is also described on pages 23-24 of the book "THE ORDINATOR PROJECT".