Hardware
The ORDINATOR was the first and largest computer built by the ORD-GROUP. Other computers we built or modified where the EXIDY, TELEVERKET, DISKSERVER and DISKLESS (which was never completed). Below we focus on the ORDINATOR.

As shown below, the ORDINATOR hardware is housed in a four-level 19-inch rack. This was later replaced with a room-height rack, but most of that was padding or contained auxiliary power supplies. It made the system quite unmovable. Our most fond memories are of the four-level rack version described here.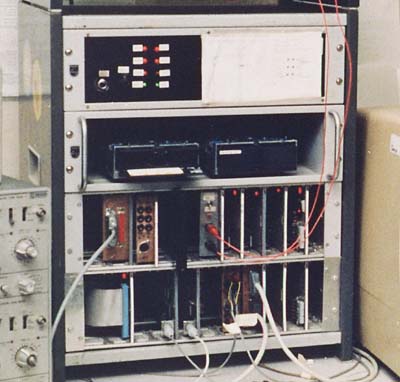 ORDINATOR hardware, early 1986


Going from top to bottom, the top level of the rack contains the power supply, the level below it the two floppy drives, while the bottom two levels hold the bus assembly. Pasted onto the right of the power supply you can see the documentation for the ORDINATOR bus. On the left you can see part of our dual-channel oscilloscope; on the right you can see part of the console terminal.

In principle, every circuit board could be placed in every bus slot. In practice, physical requirements such as cabling and spacing led to several standard layouts, one of which can be seen here. Going from left to right, the following circuit boards are visible on the top level of the bus assembly: The bottom level of the bus assembly contains, going from left to right: Other hardware not on the above picture (it was completed after the picture was taken) includes: EPROM chips with basic system software and other permanent data.