ORDINATOR
The ORDINATOR system is a multi-user computer system designed, built and used by the ORD-GROUP at DJOE during the years 1983 to 1990.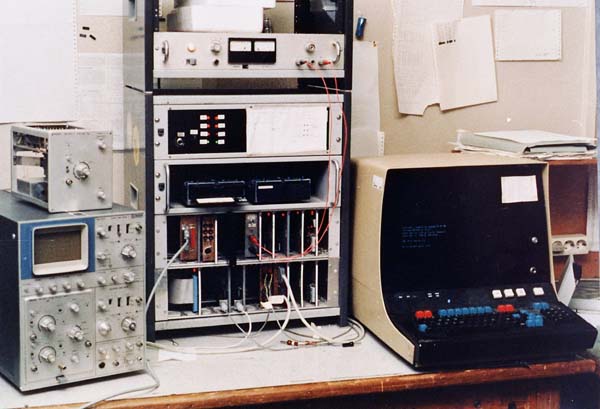 ORDINATOR system, early 1986


The ORDINATOR was built around a single 4 MHz Z80 microprocessor and could run a modified version of CP/M 2.2 in five-user timesharing mode; to that end it had a whopping (for that time) total memory size of 384 KB but only two floppy drives. It was a comfortable system of which we have fond memories.

This website is intended as the final archive of the ORDINATOR project. The actual hardware is still around at DJOE but no longer in working condition. To replace it, we have a very skeletal emulator of the system; this will be extended over time if we can salvage enough software to make it useful.

Most historical documents are in Dutch; the rest of the site is in English because the ORD-GROUP has by now gone international and we didn't want the rest of the world to feel left out :-) It is interesting to note that even before 1983 we used to write our programs with English variable names and commentary, probably influenced by the fact that most of the available literature and hardware/software documentation was also in English.

The primary purpose of the ORDINATOR system was to provide more general-purpose computer time for the members of DJOE; at that time we had only a single CP/M machine for which sign-in lists were used because of heavy demand. There were a few experimental computers at DJOE, but these were not intended for general-purpose programming.

As time progressed, the system and the group that built it became the central core of the computing facilities at DJOE, and several more CP/M machines were built.

As Dennis M. Ritchie puts it so eloquently in The Evolution of the Unix Time-sharing System, speaking about the birth of UNIX in 1969, a time-sharing system provides
[...] not just a good environment in which to do programming, but a system around which a fellowship could form. We knew from experience that the essence of communal computing [...] is not just to type programs into a terminal [...] but to encourage close communication.
Although UNIX was known to us at the time we had no way of gaining access to it until some of us entered the university; instead we attempted to copy ideas from it when we felt like it (and where aware of them). You can see this clearly in the naming of programs like &, WC and SCCSID and the PIPEn devices of the timesharing system.

As said in the book "THE ORDINATOR PROJECT" (paraphrased from the original Dutch),
During this project we did a number of reinventions. Often we solved a problem first and then went looking in the literature how others had done it. At a number of occasions we then found our solution with an extensive theoretical description. In a few cases we could not find our solution nor a better one in the literature.
We of the ORD-GROUP and many others at DJOE had a lot of fun with this project. We hope you can do the same sharing our memories.