Jurjen Bos
Born on June 25, 1964 in Leiden, the Netherlands
Member of DJOE from 1976 to 1993, membership numbers 11 and 67
Member of ORD-GROUP since 1983


| | |
| --- | --- |
| | |
| 1986 | 2002 |

Jurjen has been involved with the ORD-GROUP mostly as a software person. He spent a significant portion of his life (two days a week over a period of ten years) at DJOE. To make things worse, he spent his time at home building the JEC (Jurjen's Eigen Computer). Although he is the senior member (both in age and in DJOE membership), he spent most of his energy writing "application" software. He started with membership number 11 in 1976, but was issued a new membership card with number 67 after his card was forgotten in the laundry.

He donated critical hardware (RAM chips and delay lines) at the appropriate times. In the true spirit of the ORDINATOR project, these items were salvaged from the waste bin at his father's work. We still remember his long hours of tedious keyboard maintenance, all the while singing happily because he was so deeply in love with Jolanda, his current wife. He wrote an efficient but very complex LIFE program for the EXIDY. This program found an error in the EXIDY's RAM that wasn't found by any of the RAM testing routines: the particular bit only malfunctioned if it was left unused for a while.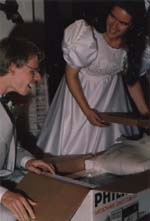 wedding picture


Together with Niels, he provided the basic ideas (ORDSYS) that grew into the time-sharing system TS and its never-built successor CHAOS, loosely based on their JANOS system. Jurjen also wrote our LISP interpreter and built the SASL compiler (written in LISP!) and interpreter together with Niels. He is still very proud of the linked-list implementation of the multiprecision multiplication routines that were part of the SASL interpreter. His interest in the boundary between math and computing science hasn't changed since: his dissertation "Practical Privacy" is on cryptology.

After his ORDINATOR period, he obtained some fame in the HP49G community with the Nosy program. A personal account of the ORDINATOR was published in the 25 year DJOE jubilee edition of the Labzwans from 1998.