"THE ORDINATOR PROJECT"
The book "THE ORDINATOR PROJECT" was written for the 18th European Contest for Young Scientists and Inventors, organized by Philips in Oslo, Norway. The ORDINATOR project had was sent to the contest as the Dutch entry for 1986 after winning the national competition for young scientists.

The original book is in Dutch; it was translated into English for the benefit of the non-Dutch speaking jury members. Unfortunately we never got a copy of the translation.

Click on the image below to browse the HTML version of the book automatically generated from the plain text version that was retyped by Luc early 2004. The retyping was done preserving as much of the layout as possible; you can also see the plain text directly.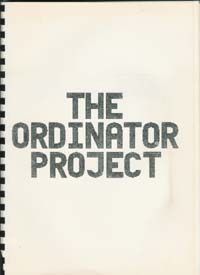 original title page


Like all our documents of the time, the book was printed on an electronic typewriter; the text was prepared using our ORDINATOR port of WordStar. This took up most of our time during the March/April period of 1986.